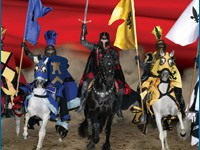 If you want more than just a good meal, you may also consider Dinner Shows. Theatre dining is especially popular in Orlando, along with opportunity to eat outside year around.
What are you interested about? There's probably something special for you and your family: experience a storybook tale of romance, begin a magnificent journey into the past in a majestic castle, enjoy comedy mysteries where you solve the crime... Its just up to you!
---

Experience a storybook tale of romance & intrigue amids the splendor of Palace of Horses. More than 60 of the world's most beautiful & graceful horses combine with all the most unique and wonjoustderful show in all the word. Dine on a sumptuous prime rib banquet prepared for the Sultan himself. Join us for the adventure of a lifetime. It will be in your heart forever.
---

Capone's Dinner & Show is Orlando's newest show and is offering an introductory offer of 1/2 OFF all tickets adults & kids! After a 15 year run Capone's is proud to present an all new sequel with fan favorites Bunny-June, Miss Jewel and Fingers Salvatorio all returning in an all new adventure featuring loads of funny stuff, action, adventure and incredible musical productions. Don't miss our Blast from the Past!
---

Unlimited Hand Tossed Pizza Unlimited Soda, Beer and Wine Vegetarian Meals Available Show: This hilarious show combines high-energy comedy improvisation with spectacular magic to thoroughly entertain audiences of all ages.
---

Imagine a majestic castle high upon a hill. Upon its turrets, colorful banners wave gently in the wind. Within its walls, spirited stallions perform for their masters. On this day, his majesty, King Alphonso the Magnificent, has invited six of the most noble knights of the realm to compete in a tournament of games, jousting, and hand-to-hand combat. Only one knight shall be victorious and become the personal champion to the King. Now is the time to begin our magnificent journey into the past. This is Medieval Times Dinner and Tournament.
---

If you are looking for an adventurous time while visiting the International Drive area of Orlando, then we should be your first stop! Pirate's Dinner Adventure is a dinner show attraction that puts you and your family right in the middle of all of the swashbuckling action. The show is perfect for children and adults alike. Pirate's Dinner Adventure is the world's most interactive dinner show.
---

Comedy mysteries where you solve the crime.
"Lord Mansfield's Fox Nunt Banquet", "Kim and Scott Tie the Knot", "Island for Sale", "Squires Inn", "Joshua's Demise", "The Show Must Go On", "G.K.'s 80th Birthday", "WKZY TV".