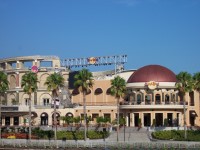 Whether looking for quick bites with the kids or far more sophisticated fare, some 5,400 restaurants near the theme park capital of the world are proof positive that gastronomic diversity can lead to happiness for residents and visitors alike. Orlando cuisine ranges from American to the finest of French, Continental, Italian, Spanish and Japanese. Add to that Chinese, Cuban, German, Mexican and more. Down home Barbeque is easy to find, as are locations for Delicatessen, Pizzeria, Healthy - Natural foods, Seafood and fresh catch from nearby waters in this Central Florida stronghold. Ranging from fast food to fantastic atmospheric venues, you will find there is something that everyone enjoys.
---

Olive Garden is the place to go if you like Italian food, be warned though the portions can be huge!
Nearest location at 12361 SR-535 Orlando FL (about 11 miles), telephone: 407-239-6708.
---

Dine among trumpeting elephants and chest-pounding gorillas in the most realistic indoor rainforest in the world. Downtown Disney, Buena Vista Drive, Lake Buena Vista, FL (about 16 miles), telephone: 407-827-8500.
---

Red Lobster has great tasting seafood and reasonable prices, reservations are not required. Nearest location at 7780 W. Irlo Bronson Memorial Hwy (US-192) Kissimmee FL (about 6 miles), telephone: 321-677-0191.
---

Star in a great meal inspired by the glamorous world of film and television. Make your dramatic entrance into the world of entertainment. It's celebrity-style dining amid Hollywood's greatest collection of movie memorabilia.
---

Located at Universal Studios Orlando in the CityWalk entertainment complex, this Hard Rock Cafe is the biggest HRC in the world and boasts more pieces of rock 'n' roll memorabilia than any other location.
---

Ruby Tuesday American Food. Serious Salad Bar. Dining out at Ruby Tuesday features popular choices and a wide variety sure to appeal to anyone's appetite.
---

Cracker Barrel Family restaurants: The Cracker Barrel Restaurant and Old Country Store is located throughout Florida, providing a casual dining atmosphere.
---

The atmosphere is fun and friendly; the bar is usually located in the centre of the restaurant. This restaurant offers steaks, burgers, salads, chicken and they also have a vegetarian selection, all in all it's a great American themed restaurant.
---
Explore and discover the Caribbean cuisine. Escape for an amazing lunch or a delicious dinner, and try one of many tropical drinks this restaurant offers! Enjoy bold and unique flavours of the Caribbean with a great friendly atmosphere.
---

House specialties including crispy calamari, chicken marsala, tender filet, unique pasta dishes and handmade pizzas baked in a wood-burning oven. But your Carrabba's experience is not complete until you've "Tasted the Thrill of the Grill!" Fresh fish, seafood and meats basted with special seasonings, grilled to your liking over the wood-fired grill and served with a variety of homemade sauces. Magnifico!
---

Chili's has a wide variety of food, the kind of food most people would call "Tex-Mex" or "Southwestern". The have many different menu sections such as salads, chicken, steaks, and their famous baby-back ribs. Champions Gate-Chili's
---

This is a great friendly "true" American diner, extra large portions are a normalilty, steaks, ribs, burgers, chicken, with many combo meals also available. Kids eat free Monday and Tuesday, Wednesday is buy one fajita and get one free.
If you visit Orlando you must visit Manny's!!!
---

TGI FRIDAY's has an exciting, and laid back atmosphere. TGIF is very friendly in character, and is a place to go and unwind after a hard day at the parks. The food is very enjoyable, and the portions are large. The Jack Daniels sauce is the main featured sauce of the restaurant, and it is tasty on everything: chicken, ribs, burgers, and steak. They also have a health conscious menu, for those trying to eat healthily.
---

Is a unique, upscale casual dining restaurant offering over 200 menu selections including Appetizers, Pizza, Pasta, Seafood, Steaks, Salads, Sandwiches, and of course many different Cheesecakes!