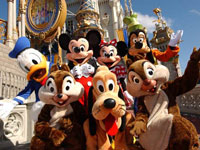 The Walt Disney World Theme Parks are where magic and wonder go hand in hand with action and adventure!
Your favorite Disney Characters, timeless tales of fantasy, and seven lands of make believe are all brought to life in the Magic Kingdom Park.
Discover thrilling attractions that transport you through time and space, then travel around the world, all at Epcot.
Be a part of the action of movies and TV, where you're in the scenes and behind the scenes of your favorite Hollywood hits, at the Disney's Hollywood Studios.
Get ready for a wild expedition into the world of animals, real, imaginary and extinct, that's both heart-pounding and heartwarming. It's Disney's Animal Kingdom Theme Park.
Magic Kingdom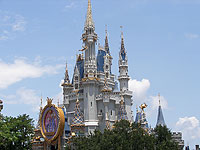 Magic Kingdom: Wonder, fantasy and plenty of pixie dust are everywhere at the Magic Kingdom Park. From flying through Neverland to yo-hoing with a band of pirates, seven enchanted lands – with over 40 magical attractions – make exciting adventures and timeless fairy tale classics just a smile away.

Toon into Mickey's PhilharMagic, an outrageous, all-new, in-your-face 3-D extravaganza featuring the largest cast of Disney animated characters ever assembled. It gives fun a whole new dimension.

Rocket through a roller coaster adventure into the darkest part of the universe on Space Mountain, or pilot your own cruiser to save the galaxy in Buzz Lightyear's Space Ranger Spin. Giggle with grim-grinning ghosts on a chilling, thrilling – and not-so-scary – romp through the Haunted Mansion. Soak up a five-story drop into Brer Rabbit's Laughin' Place at Splash Mountain. You can even see where the Big Cheese himself lives – and Minnie, too – at Mickey's Toontown Fair. And, don't forget to take to the air over Agrabah on the Magic Carpets of Aladdin. Just be sure to watch out for those spitting camels!

Be part of a timeless tribute with the Share a Dream Come True Parade, featuring giant snow globes that capture classic Disney moments in a flurry of fun. Watch the magic get brighter at night with SpectroMagic – a dazzling parade of light, color and sound. And listen to the "oohs" and "ahhs" grow louder with the all-new Wishes: A Magical Gathering of Disney Dreams fireworks spectacular. It will touch your heart with a "story in the sky" you'll cherish forever.

No wonder the Magic Kingdom Park is the most beloved Walt Disney World® Theme Park. It's the one – and only – place where once upon a time is now, and make-believe is as real as today.

Epcot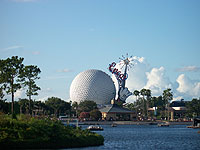 Epcot is an ever-changing, always entertaining world of discovery where you can explore the wonders of the universe and many of its cultures.

In Future World, check out the 3-D misadventure, Honey, I Shrunk the Audience and don't miss Test Track, Disney's longest and fastest ride ever! This exhilarating attraction will put you in the driver's seat to experience high-cranking excitement and a rare sneak peek into the safety, technology and testing that goes into a vehicle before it shows up in a dealer's showroom. At the Wonders of Life, race through the human body in Body Wars and find out more than you could ever have imagined at The Land and The Living Seas. At Innoventions, travel down the Road to Tomorrow to explore how science and technology are improving our lives.

In World Showcase, eleven different countries offer the best of their culture, entertainment and cuisine. Stroll from the heart of Paris to the gardens of Canada. Sail through the fury of the North Sea on Norway's Maelstrom and take a historic cruise through Mayan and Aztec civilizations on Mexico's El Rio del Tempo. Dining at Epcot is world-famous. Renowned restaurants like Italy's L'Originale Alfredo di Roma and Japan's Mitsukoshi Teppanyaki are only a few of the authentic dining experiences located in World Showcase.

At Epcot, you can end an exciting day with IllumiNations: Reflections of Earth, a nighttime spectacular filled with thunderous fireworks, sky-piercing lasers and a high-energy soundtrack.

Disney's Hollywood Studios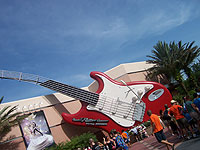 At Disney's Hollywood Studios, show business takes center stage – from thrilling attractions to on-stage, live spectaculars and exciting backstage action.

The all-new attraction Who Wants to be a Millionaire - Play It! is an exact replica of the high-tech New York set, complete with its dramatic lighting, gripping music and famous Hot Seat. But in this highly interactive attraction, everybody plays along! And don't forget to drop by The Hollywood Tower Hotel where inside awaits " The Twilight Zone Tower of Terror", a terrifying elevator ride with a NEW unpredictable ending and brand new special effects.

Fantasmic! - a nighttime extravaganza combining lasers, special effects, pyrotechnics, animation and dancing waters synchronized to your favorite Disney melodies - will take you inside the dreams of Sorcerer Mickey as Disney villains turn fantasy into nightmare. The Rock 'n' Roller Coaster Starring Aerosmith will blast you through a Hollywood night where you'll twist, turn and go upside-down on a hair raising, high-speed limo ride set to the driving beat of Aerosmith.

Laugh, play, and sing along at Playhouse Disney, an all-new live stage show featuring your favorite Disney Channel friends. Don't miss the incredible, Broadway-style stage show Beauty and the Beast- Live on Stage. For a one-of-a-kind "Under the Sea" adventure, join Ariel, Sebastian and Flounder in Voyage of the Little Mermaid.

Blast off for an intergalactic voyage on Star Tours the ultimate Star Wars' thrill ride. See how Hollywood's greatest hero, Indiana Jones, performs death-defying feats-live, before your eyes. At Jim Henson's Muppet Vision 3-D, Kermit is your gracious as ever host in a hilarious, bigger-than-life Muppet Show.

Take a ride behind-the-scenes on the Studios Backlot Tour, where you'll check out the costumes, point out the props and drive through a neighborhood of famous TV and movie homes. But when you get to Catastrophe Canyon - LOOKOUT!

Disney's Hollywood Studios: it's the glamour, excitement and thrills of show biz from every angle, as only Disney could create.

Disney's Animal Kingdom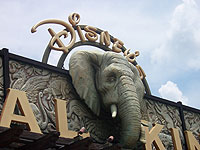 Disney's Animal Kingdom Park: Live the adventure at Disney's Animal Kingdom Theme Park, alive with creatures who inhabit our world and imagination.

Enjoy big-as-Broadway entertainment at Camp Minnie-Mickey, like "Festival of the Lion King", an energetic tribal celebration of song, dance and high-flying acrobatics. And meet your favorite Disney characters in their own Adirondack Mountain retreat.

In the DinoLand U.S.A. Area, let spinning "time-machines" transport you on a thrillosaurus journey to the late Cretaceous period aboard Primeval Whirl, a crazy coaster with free-spinning cars and colorfully corny dinosaurs that zips along a twisting track of tight turns and short drops. Experience a rescue mission that takes you back 65 million years on the DINOSAUR attraction, where the only thing between you and extinction is a seatbelt!
Travel to Africa to experience the Kilimanjaro Safaris Expedition, a ride that transports you into the African Savanna. You'll be surrounded by free-roaming wildlife as you join in the chase for poachers! Visit the Pangani Fores Exploration Trail Walking Tour, where you'll encounter hippos, African birds and amazing troops of gorillas.

Marvel at the Discovery Island Area, the delightful, vibrantly colored centerpiece of the park and home to The Tree of Life, featuring over 325 hand-carved animals. Deep inside the Tree of Life hides the hilarious 3-D spectacular It's Tough to be a Bug Attraction, crawling with special effects. Flik and Hopper from Disney/Pixar's "A Bug's Life" and all their creepin', leapin' friends, will have you screaming with laughter and squirming in your seat.

Continue your adventure into Asia to ride the Kali River Rapids® Attraction, and be prepared to get wet, even soaked on this water-rafting trip! Next, your expedition takes you through the mystical forest and ancient ruins of the Maharajah Jungle Trek* Attraction, inhabited by tigers, giant fruit bats and komodo dragons.

Experience wildly playful fun at Disney's Animal Kingdom Theme Park, a Disney adventure like no other.